Nautilus Media Systems, Inc. is a custom electronics integration company which specializes in designing and implementing superior control and automation systems.  Our focus is to provide better living through the use of today's technologies.
We install a wide range of audio and video systems including whole house audio, distributed video, home theaters, media rooms, outdoor audio and video, and more!  Additionally, we install lighting control systems, and we can provide the means to control a variety of other types of systems such as HVAC, shading, pools, and spas.
In a nutshell, we are systems integrators; and through the proper design, installation, and implementation of structured wiring and control system equipment, we can provide all the benefits of a fully integrated and automated home or business.
Kevin understands the need to pre-plan and design all aspects of any AV or integration system before it begins, Once complete, he installed such a clean looking system, you would think the house was built around our equipement!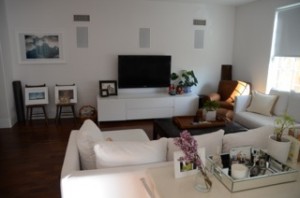 Testimonials
The entire system design, from the remote to the interior wiring was installed by Nautilus Media Systems of Orange County, a team of system integrators with visionary skills. The services provided were exceptional.
J. Lewis, Homeowner in Southern California